VCM175-64-AL, 0.456x, 63mm FOV, 187mm WD, 1.75" Sensor
VCM Series Bi-Telecentric Lenses are specially designed for high-precision application including metrology, inspection etc.
Note: Some products will have changes in appearance and parameters. Please contact our sales team for the latest information.
Product parameters
Model:
VCM175-64-AL
Mount:
F/M42
Detector:
1.75"
Mag.:
0.456x
FOV:
63mm
WD:
187mm
INQUIRY
Description Specifications Drawing
VCM Series F-Mount high precision bi telecentric lenses are the typical choice for extremely accurate measurement of large items such as engine parts, glass or metal sheets, PCBs and electronic components, LCDs, etc.
Optimized for 4/3"~35mm F-Mount cameras;
Perfectly suitable for 4K and 8K line scan cameras;
FOV ranges from 26mm to 300mm;
Very high resolution, low distortion and homogeneous image quality;
Yield constant magnification over defined depth of field;
Customized mounts available.
Optical specifications
Magnification(x)
0.456
Object Field of View (Φmm)
63
Working Distance (mm)
187±2
Max Sensor Size (Φmm)
29(1.75")
Best Aperture (F/#)
15
Telecentricity typical (max) (deg)
<0.1
Distortion typical (max) (%)
<0.1
MTF30 (lp/mm)
>65
Depth of Field (mm)
±2.5
Length of I/O (mm)
418.7
Field of View (mm × mm)
22.53x16.90 with CMV12000
49.4x37.0
Mechanical Specifications
Mount

F/M42

Length (mm)

185.2

Weight (kg)
1.4
Notes:
1. Depth of Field is calculated value, this value could be used for imaging test, but to get sharp image in application, half of
calculated value is suggested.
2. Length of I/O = WD + Length + Back Focal Length.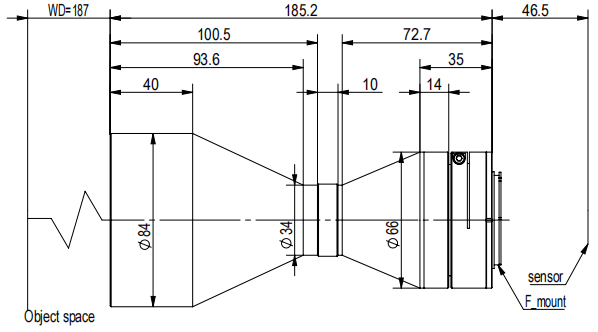 Maybe you like