Description Specifications Drawing
VWL series C-Mount Macro lens have telecentric lens elements to achieve high performance at reasonable prices.
The required magnification and working distance can be accommodated to meet your individual requirements by using an optional closed-up ring adapter.
Compact design with 16mm diameter, ideal for limited space;
Ideal for manufacturing equipment;
VWH or VWK series available for Megapixel camera or high-level camera.
Optical specifications
Magnification(x)
4.0
Working Distance (mm)
65
Max Sensor Size (Φmm)
8.0(1/2")
Aperture (F/#)
36.6
NA
0.0529
Resolution (um)
6.3
Depth of Field (mm)
0.2
Field of View (mm × mm)
6.66x5.33 with 9M001
1.7x1.3
6.47x4.84 with ICX267/205
1.6x1.2
Mechanical Specifications
Mount
C
Length (mm)
103.8
Coaxial Light
Yes
Iris
No
Notes:
1. Depth of Field is calculated value, this value could be used for imaging test, but to get sharp image in application, half of
calculated value is suggested.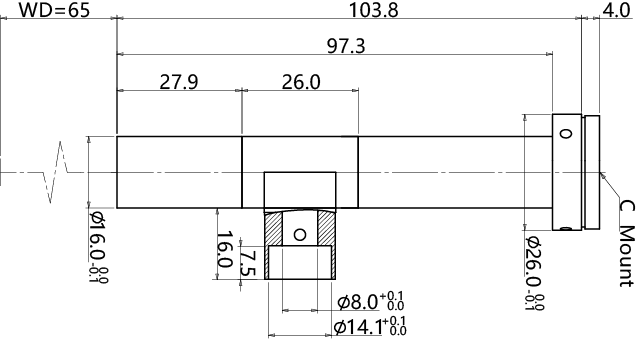 Maybe you like