Description Specifications Drawing
VWK series is designed based on the application. MOD, ODM or OEM is available.
Optimized for AOI application;
Large FOV with low magnification;
Big working distance easy for illuminations and object allocation design;
High accuracy, low distortion, high telecentricity, support up to 1.1" 12M class high-speed camera.
Optical specifications
Magnification(x)
0.3
Working Distance (mm)
180±2
Max Sensor Size (Φmm)
11.0(2/3")
Best Aperture (F/#)
10
Telecentricity typical (max) (deg)
<0.1
Distortion typical (max) (%)
<0.1
MTF30 (lp/mm)
>83
Depth of Field (mm)
±7@F16
Length of I/O (mm)
364±2
Field of View (mm × mm)
8.47x7.1 with ICX625/655
28.2x23.7
Mechanical Specifications
Mount
C
Length (mm)
166.2
Weight (kg)
-
Coaxial Light
Yes
Iris
No
Notes:
1. Depth of Field is calculated value, this value could be used for imaging test, but to get sharp image in application, half of
calculated value is suggested.
2. Length of I/O = WD + Length + Back Focal Length.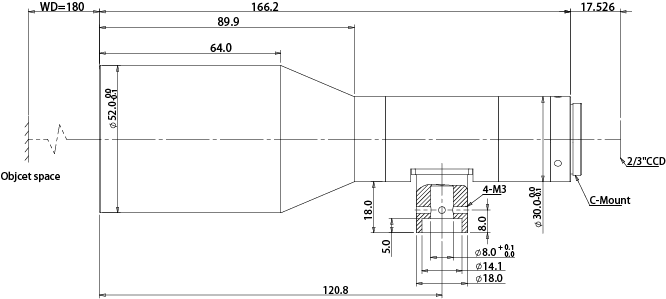 Maybe you like