Description Specifications Drawing
VCA Series Bi-Telecentric Lenses are specially designed for high-precision application including metrology, inspection etc., With build-in Coaxiel Light , Adjustable Iris, and bi-telecentric design for high quality imaging.
Support up to 8M Pixel cameras;
Zero perspective error over the entire Field of View;
Big depth of field and constant magnification over defined depth of field;
Customization available with best performance/ cost rate;
Equipped with a Manual Iris for adjusting the Depth of Field.

.
Optical specifications
Magnification(x)
0.500
Object Field of View (Φmm)
28
Working Distance (mm)
96±2
Max Sensor Size (Φmm)
11.0(2/3")
Best Aperture (F/#)
10.7
Telecentricity typical (max) (deg)
<0.1
Distortion typical (max) (%)
<0.1
MTF30 (lp/mm)
>80
Depth of Field (mm)
±2.6@F10.7
Length of I/O (mm)
225±2
Field of View (mm × mm)
8.47x7.1 with ICX
21.2x17.8
Mechanical Specifications
Mount
C
Length (mm)
111.9
Weight (kg)
0.2
Coaxial Light
No
Iris
No
Notes:
1. Depth of Field is calculated value, this value could be used for imaging test, but to get sharp image in application, half of
calculated value is suggested.
2. Length of I/O = WD + Length + Back Focal Length.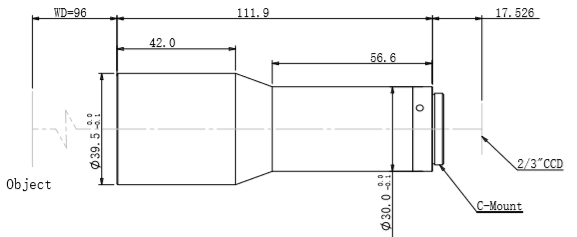 Maybe you like