VWH20-110CT-G, 2.0x, 110mm WD, 2/3" Sensor
VWH Series Mega Telecentric Lenses, equipped with a Megapixel object side telecentric lens and a Megapixel ultra-long working distance lens.
Note: Some products will have changes in appearance and parameters. Please contact our sales team for the latest
Product parameters
Model:
VWH20-110CT-G
Mount:
C-Mount
Detector:
2/3''
Mag.:
2.0x
WD:
110mm
INQUIRY
Description Specifications Drawing
VWH Series Mega Telecentric Lenses, equipped with a Megapixel object side telecentric lens and a Megapixel ultra-long working distance lens, presents true resolving power for highly detailed inspection and alignment tasks.
Compact design with coaxial illumination options
Perfect image and supports all kinds of Mega camera;
High contrast, low distortion, high resolution ;
Optional adjustable Iris for resolution and DOF control
Megapixel 'object side' telecentric lens with optional long working distance versions with over 500mm working distance.
Optical specifications
Magnification(x)
2.0
Working Distance (mm)
110±2
Max Sensor Size (Φmm)
11.0(2/3")
Aperture (F/#)
18.2
Telecentricity typical (max) (deg)
<0.1
Distortion typical (max) (%)
<2.0
MTF30 (lp/mm)
45
NA
0.0536
Resolution (um)
6.3
Depth of Field (mm)
0.4
Field of View (mm × mm)
8.47x 7.10 with ICX625/655
4.2x3.6
Mechanical Specifications
Mount
C
Length (mm)
151.7
Coaxial Light
Yes
Iris
Yes
Notes:
1. Depth of Field is calculated value, this value could be used for imaging test, but to get sharp image in application, half of
calculated value is suggested.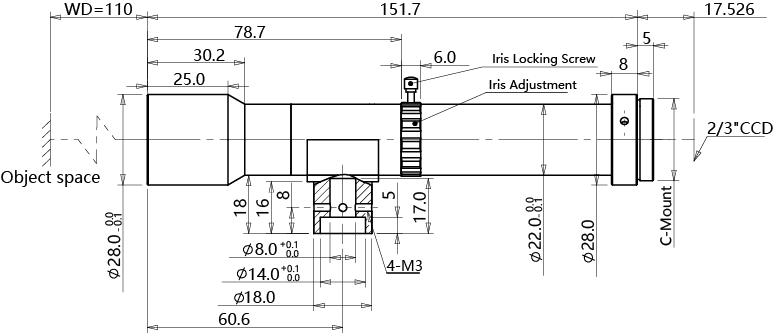 Maybe you like